Welcome to our Summer 2023 newsletter!
We hope you find our newsletter interesting and helpful. In this edition we've got lots of interesting news about...
Don't forget that if you would like more information about anything in this newsletter or anything to do with family life, then get in touch with the York Family Information Service on 01904 554444 or by emailing [email protected].
Raise York – Your Family Hub Network

We're working with partners across York to develop a Family Hub model, funded by the Department for Education. This will include creating a new website to replace Yor-OK called Raise York. The new website will become live in the Autumn and there will be a re-direct from Yor-OK.
We believe that all children and young people in York deserve the best start and the chance to thrive. Every family, child and young person should be able to get help, information and support at the right time and place. They should be able to reach their full potential and lead healthy, happy lives.
Families and communities help provide a foundation for children and young people to grow, develop and feel safe. Raise York brings together children; young people; families; communities and professionals so everyone can get the connections, help, and support they want and need.
Raise York is a network of people, places, and online support. It supports children, young people, and families from pregnancy to adulthood. You can expect a warm welcome in your local community and to be guided to the right support for you.
For more information and to find out how you can get involved visit https://www.yor-ok.org.uk/
Welcome to York's Family Navigators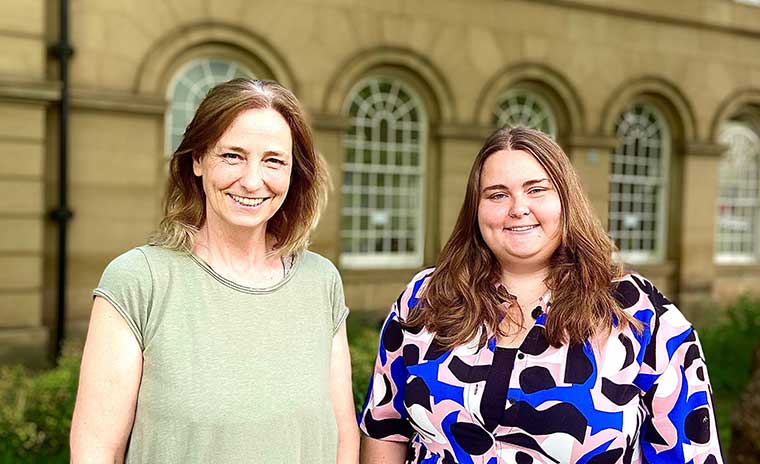 Our Family Navigators will be sure to give you a warm welcome to our Family Hubs in York. We have started to pilot some of our Raise York family hub community sites at Clifton Children's Centre on Monday and Wednesday 9-2pm and Hob Moor Children's Centre on Tuesday and Thursday 9-2pm. You will be able to meet our new Family Navigators join in with our family activities and access a wide range of information. You can get in touch with a Family Navigator by contacting York Family Information Service 01904 554444 / [email protected]
We are both very excited to take on this new role of Family Navigator as part of Raise York. We believe that families and the local communities are at the centre of the family hubs and look forward to working closely with them and local partners. Within the community we will provide a warm welcome and meaningful activities to promote child development and support families.
Brenda
"I am thrilled with my new role as Family Navigator. I am enthusiastic about raising awareness about available support and resources to help families and young people reach their full potential. I have recently moved from the York Family Information Service and have previous experience of working with various families and groups in York."
Hannah
"I am delighted to be joining the City of York Council after holding several roles in the education and childcare sector. This has provided me with valuable experience of working with children and young people and those with SEND or additional needs. I am passionate about supporting families and making the hubs a safe space for all families to thrive."
FREE summer activities
We are delivering FREE fun activities during the school holidays at Clifton Children's Centre on Wednesdays and Fridays and Hob Moor Children's Centre on Tuesday and Thursdays between 9am – 2pm. There is no need to book, just drop in! Activities are aimed at 0 – 11-year-olds, but everyone is welcome!
There will also be free teas and coffees too. (Parents/carers must stay with their children.)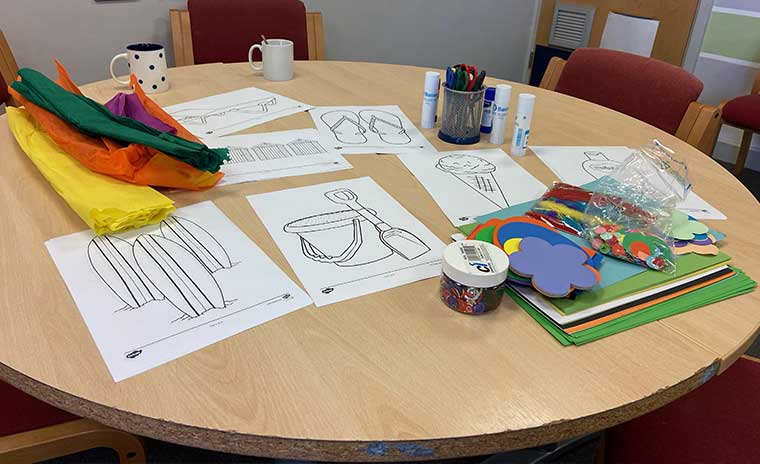 For a list of activities visit the Family Hub Activities Timetable or contact York Family Information Service 01904 554444 / [email protected] .
FREE Holiday Activities with Food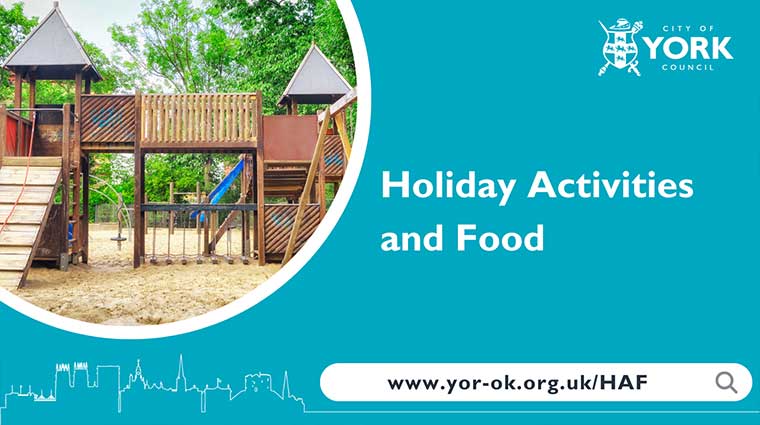 FREE, fun and friendly activities with food for families in receipt of benefits related free school meals who have children aged 4 (reception school age) – 16 years (year 11).
A new centralised booking system is in operation to view and book the activities on offer. By now families should have received an e-voucher from their child's school, this might have been sent as a text or an email. If you have not received an e-voucher and believe you are eligible, then please contact either your child's school if it is still open or [email protected] if it is during the school holidays. More information is available at www.yor-ok.org.uk/haf
What's On this Summer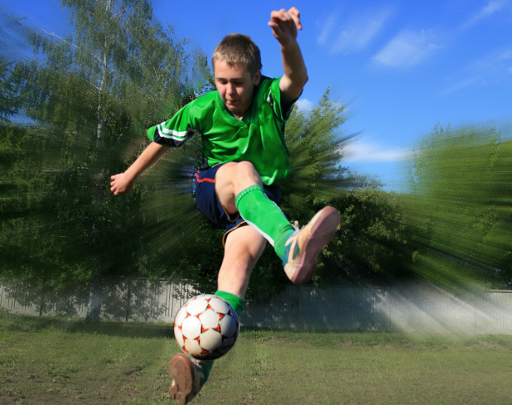 There's lots of activities and events taking place this summer for families, children, and young people including FREE activities and activities aimed at children and young people with special educational needs and disabilities.
You can also search for activities and things to do in our online childcare and services search directory.
FREE – Summer Reading Challenge!
On your marks! It's time for Ready, Set, Read! (opens in pdf) the Summer Reading Challenge 2023.
The Summer Reading Challenge takes place every year during the summer holidays. Children can sign up at their local library, then read any books of their choice to collect the special stickers and rewards along the way, with a certificate and medal for all who complete the Challenge.
Children's reading can 'dip' during the holidays if they do not have regular access to books and encouragement to read for pleasure. The annual Summer Reading Challenge really helps by getting children into libraries over the summer to choose books freely and independently and is endorsed by parents and teachers. Find out more on the York Explore website
All York Family bus ticket
Starting on Saturday 22 July, the price of an All York Family bus ticket will be reduced to £5.50. This means that up to two adults and three children (or, one adult and up to four children) can go by bus using an All York Family ticket for just £5.50 a day, all summer holidays. You can take any bus on any route so why not use it to explore the city this summer? Your journey must start and finish within the City of York boundary you can find where this is at City of York area boundary (download as a pdf)
All you need to do is buy on-board any bus, using cash or contactless payment. The ticket price will remain at £5.50 until Sunday 3 September 2023. For more information and to help plan your route, visit the iTravel website for more details.
Starting Primary or Secondary school
Starting a new school is an exciting step, but it's natural if you or your child have some concerns about how well they will take to it. Most children settle into a new routine very quickly, but we've got five top tips to help with the move. More information at www.york.gov.uk/StartingSchool
Starting Primary school
Get your child used to dressing and undressing themselves
Teach your child how to go to the toilet on their own including sorting out their clothing, wiping and handwashing
Encourage your child to use a knife and fork at mealtimes
Encourage your child to sit and listen to a story and talk about a book for a few minutes at a time
Help your child to learn to follow simple instructions
Starting Secondary school
Don't worry if you feel excited and a bit nervous about moving school, it's normal to feel both
Try to get used to your new school before you start in September
Practice your new journey to school before your first day so you feel confident
Don't worry about doing things wrong or getting lost at first, remember it's really normal to make mistakes
Chat to someone you trust, like a family member or friend if you are worried
Transitioning to school for children and young people with SEND
If your child has special educational needs or disabilities, you may also find the following websites helpful
Financial Support for Families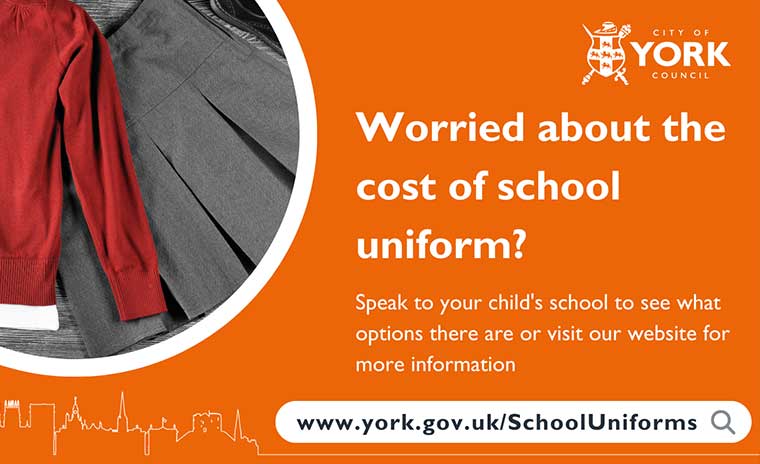 School uniform:
It's the start of the school holidays and many families will already be thinking about school uniform for the new term. If you are worried about the cost of new uniform, please contact your child's school to discuss. Lots of schools also offer pre loved uniform either as an exchange or for a small donation.
For families who have children in years 7 – 10 at secondary school, uniform assistant grants have been issued to eligible pupils. Vouchers will be posted to eligible families in July 2023. For more information visit www.york.gov.uk/SchoolUniforms.
16 – 19 bursary: Looking for support for families with older children? Young people aged 16-19 who stay in school or training can get money to help with things like books, transportation, and other learning costs. Find out more at www.gov.uk/1619-bursary-fund.
Benefits and Money: If you need some support, you might be surprised at what benefits you're entitled to, and you could be missing out! Make sure you're getting all the help you can. Find out more at www.york.gov.uk/BenefitsAndMoney.
There is also advice and help to make savings on household bills. Find hints, tips, advice and more at www.livewellyork.co.uk/talkmoney . Also search for #YorkTalkMoney for tips on social media too.
Help with Childcare Costs
You could receive help towards the cost of childcare whether your child is under 5 or at school. Here is a summary but you can find more information on the Childcare Choices website.
15 hours funding for 2 year olds: Some families with two-year-old are entitled to funding for 15 hours of childcare per week, for 38 weeks per year. You don't have to receive benefits to apply. Find out more about the 15 hours funded childcare for 2 year olds.
15 hours funding for 3 and 4 year olds: All families with a 3 or 4 year old can get up to 15 hours of childcare per week, for 38 weeks per year. There's no need to apply, just let your childcare provider know you want to access the funded hours. You will be asked to sign a parent declaration form, but your child's childcare provider will help you if you need any further help.
30 hours funding for 3- and 4-year-olds: Working families could receive up to 30 hours funded childcare per week, for 38 weeks per year. You will need to apply on the Childcare Choices website, but the form will guide you through the steps.
Tax Free Childcare for 0 – 11-year-olds (up to 16 if disabled): Available to working families who who earn up to £100,000 each and are not receiving Tax Credits, Universal Credit, or childcare vouchers. For every £8 you pay in, the Government pays in £2, up to a maximum of £2,000 per child per year (or £4,000 if your child is disabled).
Annual Childcare Parent and Carer Survey
We have just launched our annual early years and childcare parent/carer survey.
Do you…
have yet to find an early years and childcare places for your 0- to 14-year-old (up to 18 years old for children with a disability), or
have a child/ child currently attending a childminder, pre-school, day nursery, school nursery, before/after school care or holiday club.
If so, we'd be very grateful if you could complete the survey which should take approximately 10 minutes.
Answers will be kept confidential, and parents / carers will not be identified in any way in the reporting and use of this survey.
Baby self-weigh important notice
Important notice about Self Weigh, Clinics and Nurture at Clifton Children's Centre. Due to building work, the Healthy Child Service clinics will not be available between Monday 24 July and Friday 15 September inclusive. Please contact the Healthy Child Service if you have any concerns or would like some help or information about your child 01904 555475 [email protected]
Find out more information about the Healthy Child Service and a range of information about what support they offer.
Sun Safety Information
Our British summer weather – one minute we're basking in sunshine and the next it's dark clouds and rain. Whatever the weather is doing this summer you will find helpful advice around keeping your baby safe during the summer.
Visit The Lullaby Trust for their baby summer safety messages covering topics such as travelling by car, safe sleep routines whilst on holiday, room temperature and more at
The NHS also covers information on Keeping your Baby Safe in the Sun covering topics such as sun safety and avoiding dehydration.
Click Start by Tech Up Women!
TechUPWomen, based at Durham University, are offering a new FREE tech training programme providing IT and IT support skills, specialist career-path taster sessions and workplace readiness preparation. The programme is aimed at women and nonbinary people aged 18 – 30 years, living in the North of England who experience severe barriers to work and education, live in poverty or areas of deprivation and/or come from underserved groups. Due to the popularity of the courses a new 6-week fast track course will be starting on Saturday 22 July 2023. For more information visit the TechUpWomen website.
Local Offer for SEND Updates
New Local Offer Website

Together with families we have been developing the new, York SEND Local Offer Website.
We need your help to review it before it goes live.
The York SEND Local Offer sets out services and activities available to children and young people with Special Educational Needs and Disabilities; support is available from birth to 25 years old.
Email [email protected] to get involved.
Tourettes Support in Yorkshire
T.I.C is a registered charity who support inclusion in the community for young people with Tourette's Syndrome. They offer support groups, employment support, 1-2-1 and training for schools and workplaces.
Visit their Facebook page at https://www.facebook.com/TicYorkshire to see the support they offer, including a sibling support group for children and young people who have a sibling with special educational needs and/or disabilities.
Take a look:
Activities to do this Summer
Make sure you follow @yorklocaloffer on Facebook to keep up to date with activities available for children and young people with Special Educational Needs and/or Disabilities this summer.
YIK's Parent Carer Forum
YIKS Parent carer Forum York is a group of parents and carers of children with disabilities and / or special educational needs who are interested in helping to shape the services which your family use. The forum works alongside Education, Health, and Social Care to ensure that their plans incorporate parent / carer view.
As a member you will be given access to our Facebook page and join our community to meet up for events or socials. We are also able to signpost other services and we share information by a fortnightly newsletter and social media. If you are interested in joining, please email Mary on [email protected]
Don't keep us a secret!
Don't forget to tell your friends and family about York Family Information Service!
If you use Twitter or Facebook, you can follow York Family Information Service online! Get the latest news and information about family life and events in York
Register with the Information Service
Is your child under 3? By registering with our Information Service you will receive on an ad hoc basis tailored information about groups and activities, 2 year old funding and other information such as the opportunity to take part in research specific to the age of your child. Register online at www.yor-ok.org.uk/inforegister
Feedback - let us know about the service you have received
If you have any suggestions or comments about our newsletter and the types of articles featured or you have been in touch with us, we would like to hear from you! Your feedback helps us to know how effective we are, and how we can improve. You can provide your feedback online at www.yor-ok.org.uk/feedback
Rate FIS on Facebook
Help other parents/carers know what you think about our service, by writing a brief review in the reviews section on our Facebook page http://on.fb.me/FamilyInformation